Start them young
Our November "Vollie of the month" proves you're never too young to give volunteering a go.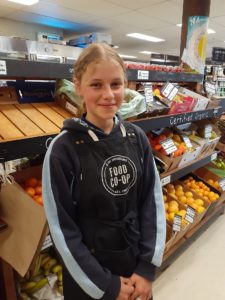 Esther Nelson volunteered at the Co-op as part of her participation in the Duke of Edinburgh Award. The Award is for young people to build skills to equip them for life and work. "By creating opportunities for young people to develop skills, get physically active, give service and experience adventure, the Award can play a critical role in their development," says the Duke of Edinburgh website.
Esther was a great help around the shop and the office during her time at the Co-op and says she loved the sense of community and interaction between staff and customers. She also urged others to give volunteering a go because "it's a great experience and everyone at the Co-op is very friendly."
Best of luck with the rest of your Award Esther!
To find out more information about volunteering at the Co-op click here.