Homesteading hacks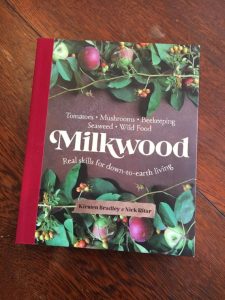 The first book from the founders of Milkwood Permaculture, sustainability advocates Kirsten Bradley and Nick Ritar, is not only the realisation of ten years of hard-won practical know-how, it is a celebration of lifestyle. A lifestyle where time-honoured traditions of growing, cultivating, foraging and preserving food are practised with respect for the environment and enthusiasm for self-reliance.
Homemade and heartfelt, this beautiful instructional tome thoroughly explains five areas of the pair's expertise – wild food, natural beekeeping, mushroom cultivation, tomatoes and the harvest and use of one of Australia's least utilised resources, seaweed – providing readers with practical skills, recipes, hacks, inspiration and a glimpse into Bradley and Ritar's own down-to-earth life.
BM Food Co-op caught up with Kirsten Bradley to find out how the book came about.
Q: You teach various courses at Milkwood Permaculture was this book a natural progression from that and what do you hope to achieve with it?
Kirsten: Yes in many ways it was, we wanted to share knowledge in a way that it can sit in your lounge-room or backyard with you, and be absorbed over time.
Q: Why did you focus on just five subjects – Tomatoes, Mushrooms, Beekeeping, Seaweed and Wild Food?
Kirsten: Well they're 'five of our favourite things', so to speak, and also we didn't want to just give a little bit of info about too many subjects, we wanted to dive in deep! So we started with five subjects that we love doing in our daily life, which are also super fascinating AND super delicious. Our next plan is to do another five subjects, and then another five…
Q: What advice would you give someone wanting to embark on a more self-sufficient life?
Kirsten: Start where you are, use what you have, do what you can! We'd recommend starting with just one small habit, and learning to do that really well. It might be keeping a worm farm, or learning to make yogurt, or learning to identify 10 local edible weeds where you live. Once you've got that one thing nailed, and you're doing it regularly, in your daily life, choose one more thing. It's amazing where you can end up.
Q: You practice what you preach – do you ever get any down time and does it ever feel too hard living a self-reliant life?
Kirsten: We don't get a heap of down time, but on the other hand, part of our 'weekly work' is things like weeding, or taking the goats down the gully, or making bread. And for me, those sorts of things are what I'd want to be doing with my spare time anyway, so it works out pretty well. It can get a bit crazy in harvest season when the kitchen floor is covered in just-picked food that all needs to be bottled NOW because it's a heatwave and otherwise it will all be mouldy by tomorrow, but still I wouldn't have it any other way. And if you have too many pears to process, you can always share them up and down the street. It's all good.
Q: What's next for Milkwood – are you already planning a sequel?
Kirsten: Yes I'm bursting to write another five chapters, actually! There's so much to share, it's pretty exciting. And we're so lucky to all live in a place where these skills and ideas are accessible and possible, so I do feel the best way to spend my days is sharing this knowledge so that more and more households and communities can grow and be healthy. That's what it's all about, isn't it? x
Milkwood Real skills for down-to-earth living by Kirsten Bradley & Nick Ritar
Murdoch Books, RRP $45