Growing community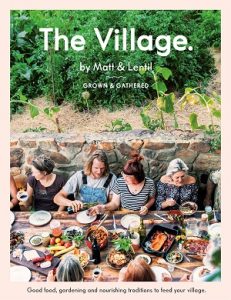 The Village by Matt and Lentil is a book to make you "yearn for that deep connection to people and places close to you" writes Bec Tyson.
What an amazing book! Set out in three parts (the village, the growing and of course the eating) it is a thorough bible for sustainable living. The authors' shared experience of villages really makes you yearn for that deep connection to people and places close to you. I loved Matt and Lentil's advice on growing including ideas about how anyone can grow, even if you're renting or living in a flat. The eight steps to natural gardening are so interesting and detailed. Being a novice in the garden, I found it really useful to read a frank description of what they do and when. The planting projects are really inspiring and seem like a doable place to start. The idea to focus on one thing first up is great. I'm particularly drawn to grow an abundance of tomatoes, zucchini and rocket as suggested! Easy to grow, abundant harvest? Yes! The sweet potato crates sound pretty straight forward too. Just as I started reading The Village I happened upon a bunch of zucchini that had split open. Sure enough, zucchini pickle featured in the book. I have it stewing away in the cupboard and can't wait to be cracking it open over Xmas. Waste not want not. The smoothie chart in the recipe section looks so simple and useful. It's unique, setting out all the different elements and options/quantities to be used to build a great smoothie every time. The beautiful photographs throughout draw you into a gardeny world and you just want to go live there…or recreate it. Really inspiring.
Review by Bec Tyson, Co-op sales assistant.
Bec made zucchini pickles using the recipe from The Village by Matt and Lentil.
Published by Plum, RRP $45.00, Photography by Shantanu Starick.