Herbs with heart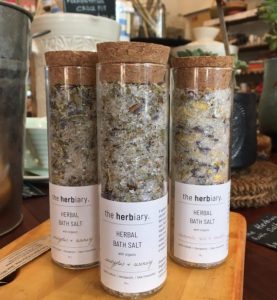 We are lucky to have some talented staff on the team at the Co-op. Relief worker and herbalist Maddison Pitt, recently launched a range of herbal skin and body care products with her partner Del Woodland under the label The Herbiary. We asked Maddison to tell us a little bit about herself and the brand.
Q: What is your background and how did you come to be working at the Co-op?
A: I wanted to be a part of the Co-op as soon as I started to shop there. My background is in retail, most recently working in a community pharmacy. My partner and I joined the Co-op a few years ago and loved the ethos and focus on low environmental impact, supporting local growers and makers whilst providing needed resources for the community. After graduating from Western Herbal Medicine at the end of 2017 I wanted a workplace that was like-minded and was lucky enough to secure a position at the Co-op.
Q: What got you interested in herbalism?
A: I started to question the way we 'do' health. Complimentary medicine focuses on people as a whole being, an approach that resonated with me. The philosophy of herbal medicine, encompassing our physical, spiritual, and emotional health led me to study Western Herbal Medicine. I wanted to know what it meant to be a healthy and 'well' being. I was particularly drawn to herbal medicine because of the connection to nature through herbs, plants, and natural materials. It was amazing to think a plant in my backyard may have the ability to heal if prepared in a certain way. The idea of making your own medicine, understanding the process of medicinal manufacturing, and using your hands to heal fascinated me.
Q: What is the ethos behind The Herbiary?
A: We wanted to take a holistic approach to our product range. To us this meant utilising the innate healing ability of herbs while operating kindly. We are committed to treading lightly, our packaging is plastic free, recycled or recyclable. Our ingredients are fairly traded, organic, animal cruelty free and vegan. Kind to your skin, the earth, people and animals.
Q: What products do you make?
A: Our herbal bath salts are currently in store at the Big Little Shop, they are magnesium and herb rich to soothe tired muscles and minds, while nourishing the skin. Our gentle exfoliating body scrubs will be available very soon along with our moisturising 'mylk' bath which is suitable for folks of all ages.
Q: What other services do you offer?
A: I also offer herbal medicine consultations where I can formulate personalised herbal preparations. Both Del and I have lots of projects on the go and even more ideas for 2019.
You can follow our socials or head to our website to see more! @the.herbiary theherbiary.com.au