Part of the solution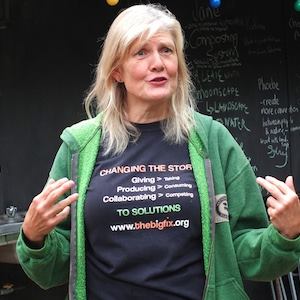 Environmental activist, teacher and The Big Fix founder, Lis Bastian, is combining permaculture and social enterprise to help mountains youth kick start sustainable careers. Learn more about Lis, solutions journalism and her passion project.
Q: What is The Big Fix and what are its aims?
A: The Big Fix Inc is a not for profit organisation that started in Blackheath in 2007 as a climate action group. We were originally called Blackheath CAN! We've grown to become an arts, media and community development service. Our mission is to "Change the story" – to grow a collaborative solutions-focused culture and we do this via both show and tell. We 'show' by establishing projects (like Blackheath Community Farm) and 'tell' by supporting storytelling through a range of media services, including The Big Fix magazine, Global Solutions Digests and our template for other communities, Blackheath Local News.
Q: What is your background?
A: Previously I've had a range of roles in arts, community development and climate change work. As well as being an Art teacher, Education Officer at the Art Gallery of NSW and Curator of Orange Regional Gallery, I was CEO of Arts OutWest, a Climate Adaptation Officer for 17 Central NSW Councils, CEO of Varuna, Public Programs Manager for the Blue Mountains Cultural Centre and Lecturer in Operations & Environmental Management at the Blue Mountains International Hotel Management School. I also co-founded the Blue Mountains Permaculture Institute with Rowe Morrow.
Q: What are some of the positive outcomes of The Big Fix?
A: Started Blackheath Community Market and ran bulk buys for hazelnut trees and solar panels. Attracted almost $100,000 of funding to Blackheath, which has employed lots of local storytellers, including young people, and helped establish the Community Farm. Strengthened local community via the Community Farm and other projects. Supported activities of other groups by sharing their stories. Received feedback that people read our news first so that they're not disheartened by mainstream media. Helped switch businesses away from plastic straws and run a Youth Cafe. Trained lots of permaculturists and permaculture teachers. Created a model that can be scaled to other communities.
Q: Can you tell us about your new project to engage youth through permaculture and social enterprise?
A: Our most recent project is Grounded – a Youth Permaculture and Social Enterprise Project which has been funded by Blue Mountains City Council, Bendigo Bank and Sydney Water. It emerged from an alliance of local businesses and organisations, including the Co-op, and we're offering a free Permaculture Design Course for young people aged 16-24. The course will be quite an exciting new version of the internationally recognised PDC because it will include training to help students design land and their own social enterprise. Over the next six months, following the course, they'll get ongoing mentorship and support to establish a local business or businesses for young people in the Blue Mountains.
Anyone interested in participating in the course can contact Lis on 0407 437 553 or email lis@thebigfix.org