Walk on the wild side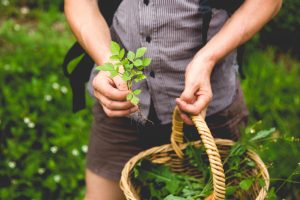 We asked Diego Bonetto aka The Weedy One what got him into weeds.
Q: What got you interested in wild food and foraging?
Diego: Where I grew up, on a dairy farm in northern Italy, harvesting seasonal bounties is just another chore. I grew up with collecting bitter greens from the fields in springtime, summer berries and autumn mushrooms. When I moved to Australia 25 years ago I continued with the same practice of collecting gifts from nature.
Q: What are weeds useful for?
Diego: All sorts of things. "Weeds" are pioneer species, opportunistic plants with a specific ecological task: to cover soil and start the process of remediation after a disruption. It also happens that many of them are edible and/or have medicinal qualities. We can talk about co-evolution if you want, and that would explain why we have so much to answer about the proliferation of pioneer species. Weeds are good, and food.
Q: You do a lot of foraging in urban areas – how do you mitigate contamination by pesticides, animal faeces or other pollutants?
Diego: You only ever forage where you know it is clean. Even then, it is now proven that wild urban plants do not take up as much contaminant as we might expect them to. A simple vinegar wash would cleanse the plants of any dust and oils. But anyhow. I always say that the best place to forage is your own garden, so that you forage where you know how many dogs there are, who sprays what and also a bit of history of the soil.
Q: Do you have a favourite weed you like to cook with or use medicinally?
Diego: Depending on the season. At the moment I am waiting for the mulberries. In Sydney we have a lot of wild mulberries, and they are delicious.
Q: Are there any "weeds" you know of that are endemic to the Blue Mountains?
Diego: I do not think you can have an endemic weed. I guess native species that are a bit too aggressive could be golden wattle and sweet pittosporum.