Going plastic-free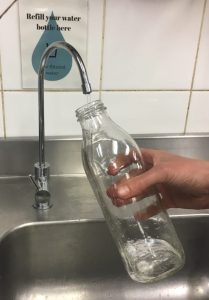 A worldwide love affair with bottled water is costing us dearly and not just our hip pocket.  In 2017, The Guardian revealed that almost 20,000 plastic bottles were consumed per second globally, and that figure would increase another 20% by 2021, "creating an environmental crisis … as serious as climate change."
Australia's bottled water consumption generates over 60,000 tonnes of greenhouse gas emissions each year and despite most being recyclable, billions of plastic water bottles end up in landfill or as litter in our waterways and oceans. New studies have also discovered that the largest source of micro-plastics consumed by humans come from drinking bottled water.
But there is good news. Did you know you could refill your reusable water bottle at the Blue Mountains Food Co-op? The Co-op has free filtered water available on tap in-store for thirsty shoppers, locals and tourists.
"It has always been the Co-op's remit to provide opportunities for shoppers to reduce waste wherever possible," says Halin Nieuwenhuyse, Blue Mountains Food Co-op manager. "To that end we stock a large range of non-plastic, eco-friendly shopping and produce bags, food storage containers, stainless steel, bamboo and glass drinking straws, keep-cups, water bottles, and locally-made ceramics. And we welcome donations of label-free glass jars and bottles for re-use.
With China now refusing to accept the world's waste, it's more important than ever to be mindful of the products we buy and choose package-free or reusable packaging where we can."
To support Plastic-free July the Co-op is offering non-members the opportunity to shop at member's prices all this month when they BYO reused or recycled containers, plus go into the draw to win a Plastic-free Living prize pack.
See bmfoodcoop.org.au or in-store for details.